Hemp News
The Rebirth of Industrial Hemp:  Processing and Bio-refineries 
Hemp is on the rise today, and facilities like Pure Hemp Technology and contributing to what Carl Lehrburger calls, "the thrust of the hemp revolution".
By: Abbie Marks
With the passing of the federal Farm Bill and supporting state pilot programs, local businesses are providing farmers an opportunity in industrial hemp while manufacturing eco-friendly products.
Pure Hemp Technology, a hemp processing plant and bio-refinery located in Fort Lupton, CO is doing just that, promoting sustainable agriculture by converting industrial hemp into useable products.
As of last year, Colorado Department of Agriculture reported 3,675 acres of hemp grown in 2016, nearly tripling in volume of growing space and in number of participants last year. According to the National Hemp Association, hemp farming nationwide grew 1,000% in 2015.
Hemp farmers are driving the demand for companies like Pure Hemp Technology to process hemp today.
In this video with Ed Lehrburger, Founder of Pure Hemp Technology and Dani Billings, Co-Founder of Colorado Hemp Project and Nature's Root discuss the role of the hemp plant in Colorado's' booming agricultural economy.
"Processing represents the thrust of the hemp revolution." –Carl Lehrburger, Executive Manager of Pure Hemp Technology
Pure Hemp Technology is a wet processing plant which distinguishes them in their approach and represents a key "central supply chain" that simply doesn't exist for whole plant processing.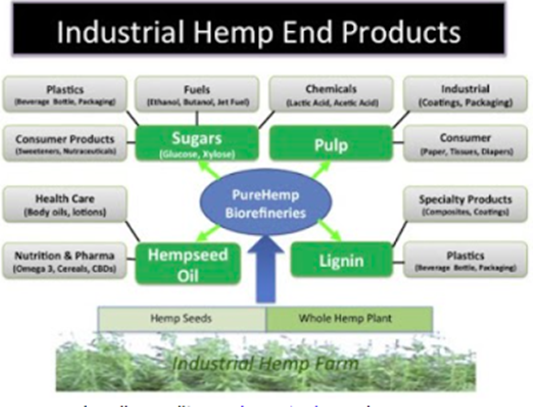 (media credit: www.purehemptech.com)
This allows plants like Pure Vision to refine hemp into higher value products and strains in addition to fiber, pulps for paper, and other materials like lignin which consists of 20% of the plant. These materials are processed into several applications from chemicals and plastics to sugars, sweeteners, alcohol, and more.
Pure Vision/Pure Hemp Technology is a registered R&D facility in Colorado, producing different grades of pulps and stalks/hurd, long fibers, into useful products for green businesses.
Processing these co-products into these higher value products is critical to growing hemp.
"A company looking into textiles, processing, seed, etc, that only represents a fraction (of the market value)," says Lehrburger, "it makes growing it (hemp) more valuable (for American farmers)."
Facilities like Pure Hemp Technology provide farmers a means to commodify their harvest as well as readily available sustainable alternatives and to everyday consumer goods.
"Farmers have to be successful, pricing of commodities has to also be successful to buy seed, specialized equipment, etc."
In light of the decline in opportunity and the challenges faced by Rural American farmers today, Lehrburger discussed the potential for jobs not only in the growing and agricultural sectors but in processing and manufacturing.
"The start of the hemp industry seems to represents a significant opportunity for revitalizing rural America, where the bigger picture is replacing oil-based products with bio-based products."
In this article from Environmental Health News, Jessica Knoblauch reports that "evidence is mounting that the chemical building blocks that make plastics so versatile are the same components that might harm people and the environment. And its production and disposal contribute to an array of environmental problems." 1.
Supporting the Industrial Hemp Farming Act, urging businesses to consider go green, and reaching out to congress is a huge push away from plastics and a way to help surge the rebirth of industrial hemp.
For more information on hemp processing and bio-refineries like Pure Hemp Technology, join Ed Lerhburger and Carl Lerhburger at NoCo Hemp Expo on April 1-2 at The Ranch Events Complex in Loveland, CO. Ed will be speaking at the Let's Talk Hemp stage along with several key industry experts and business leaders during Saturday, April 2. To learn more about the expo and view a full schedule of events click here!
Knoblauch, Jessica A. "The Environmental Toll of Plastics." Environmental Health News. N.p., 2 July 2009. Web. 30 Mar. 2016.