Hemp Lifestyle
Former NFL Players and a Fine Man Growing Hemp in George Washington's Garden Among the Stellar Speakers for the First-Ever Southern Hemp Expo in Nashville
Brightest Lights in Hemp Farming and Business to Ignite the Revolution as the World's Largest Industrial Hemp Expo Heads to Fairgrounds Nashville, September 28 and 29
Nashville, TN (September 11, 2018) – Former Miami Dolphins left tackle, Jake Long and Super Bowl champion Matt Wilhelm, will be among the hemp pioneers, experts, entrepreneurs and advocates who will gather for the inaugural Southern Hemp Expo (SHE) as Colorado Hemp Company brings its wildly popular NoCo Hemp Expo, the world's largest industrial hemp exposition held each spring in Colorado, to the Fairgrounds Nashville in Tennessee on September 28 and 29.
"SHE – and the feminine acronym is intentional – will be a who's who of the hemp industry, which is exploding so quickly it's tough to keep up," said NoCo Hemp Expo co-founder and co-producer Morris Beegle. "This is where it all comes together – where the connections are made and the pathways opened to take this industry to the next level."
Along with hemp advocates Long and Wilhelm, who use CBD for pain, the speaker lineup is packed with hemp industry luminaries offering insight and wisdom on a main stage and during a business conference and agricultural symposium.
Keynote speaker Dean Norton, horticulture director for the historic Mount Vernon estate, will talk about growing hemp at George Washington's home in Mount Vernon, Virginia, for the first time in 260 years. (He just harvested the first crop.) Cannabis pioneer Doug Fine, an entrepreneur, regenerative farmer, and bestselling author who is a favorite on Conan and Tonight Show, will delight attendees with his stories of hemp from around the world.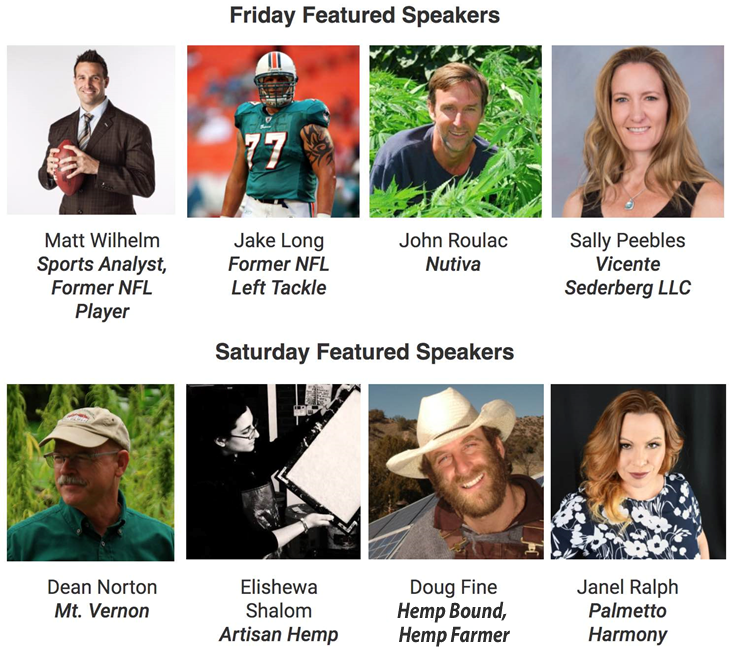 Highly anticipated appearances by John Roulac, Founder of Nutiva, and Janel Ralph, CEO of Palmetto Harmony, will engage the audience with their industry expertise in speaking sessions on both days of the Expo.
Entrepreneurs like Artisan Hemp founder Elishewa Shalom, Vicente Sederberg LLC founder Sally Peebles, Satya Kama founder Shadi Ramey, Hempcrete builder Eric McKee, hempologist John Dvorak, Functional Remedies president Tim Gordon, Apeks Supercritical founder Andy Joseph, and WillPower founder Will Carr, among many others, will share what it takes to make it to the top of an industry even as it's being born.
Based on the sold-out fifth annual NoCo Hemp Expo in April, the need for this type of knowledge sharing and networking in the hemp industry is deep. "George Washington famously said, 'Make the most of the Indian hemp seed and sow it everywhere,'" Beegle said. "We will be doing just that."
Tickets on Sale Now
With exhibitor space selling out six weeks ahead of the show, don't be left out. Conference and Expo Hall tickets for Southern Hemp Expo are on sale now at SouthernHempExpo.com.
About the Southern Hemp Expo
The Southern Hemp Expo is produced by the Colorado Hemp Company, a division of WAFBA LLC (We Are For Better Alternatives), based in Loveland, CO, and producer of NoCo Hemp Expo, the world's largest expo and conference for industrial hemp. WAFBA is founder of TreeFreeHemp paper and printing services and the Colorado Hemp Company. Areas of focus include product and brand development, event production, consulting and advocacy. Visit us on Facebook and Twitter.
Thank You to Our Sponsors
Southern Hemp Expo is proud to announce Blühen Botanicals, based in Knoxville, TN, as this year's presenting sponsor. Other sponsors for the Southern Hemp Expo include: GenCanna, Kat's Naturals, LabCanna, Lilu's Gardens, Softgel Co., Bluebird Botanicals, ProVerde Labs, Kazmira, Anavii Market, Bish Equipment, WillPower Products, Restorative Botanicals, Colorado Hemp Project, Palmetto Harmony, Hempsac, The Hemp Road Trip, and Silver Mountain Hemp Guitars. Also, the Hemp Happy Hour media booth will be hosted by CV Sciences, maker of +CBDOil.

Contact
Steven Hoffman, Compass Natural, tel 303.807.1042
steve@compassnaturalmarketing.com
Morris Beegle, Colorado Hemp Company, tel 970.541.0448