Hemp News
Presidential Candidate, Hemp Supporter, Representative Tulsi Gabbard (D-HI) to Present Keynote – video
Special Announcement: Presidential Candidate, Hemp Supporter, Representative Tulsi Gabbard (D-HI) to Present Keynote, Friday, Sept. 6, 1:30 – 2:00pm, Southern Hemp Expo, Williamson County AG Expo Park, Franklin, TN
Rep. Gabbard Introduces Hemp For Victory Act: Legislation Vital to the Success and Modernization of Hemp through Research and Innovation to Protect our Environment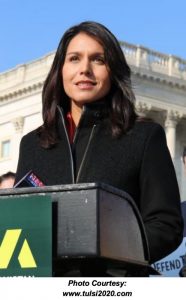 FRANKLIN, TN (September 6, 2019) – The Southern Hemp Expo (SHE) is excited to announce that Democratic Presidential Candidate, U.S. Representative Tulsi Gabbard(D-HI) will present the conference's keynote address via Skype teleconferencing on Friday, Sept. 6, 1:30 – 2:00 pm at the Williamson County AG Expo Park, Franklin, TN. Bestselling author of Hemp Bound, Doug Fine, who is also presenting during the conference, will introduce Rep. Gabbard. Attendees at SHE will be able to watch and listen to the congresswoman's perspective on hemp as a commodity and her goal to modernize and maximize the potential for domestic hemp crops in the coming years.
Rep. Gabbard introduced Bill #H.R. 3652,The Hemp For Victory Act, this past July to the Department of Agriculture. This legislation would provide a much-needed framework for the emerging hemp industry that protects family farmers and small businesses from the threat of a potential corporate takeover. Also, Bill #H.R. 3652 focuses on researching the benefits of hemp, while ensuring safe agricultural practices.
"We're very excited to have Presidential Candidate Tulsi Gabbard deliver the keynote address and be this year's special guest at the Southern Hemp Expo," explains Morris Beegle, Southern Hemp Expo Producer. "We applaud the congresswoman's support for hemp and respect her commitment for implementing effective hemp legislation to protect this growing industry."
Friday, September 6, 2019
Tulsi Gabbard, (D-HI), U.S. Representative, Presidential Candidate
Keynote address via Skype teleconference
1:30 – 2:00 pm (EDT)
Williamson County AG Expo Park, Franklin, TN
About Tulsi Gabbard
Tulsi Gabbard is a Democrat who was first elected to Congress in 2012 to serve the people of Hawaii. She is currently a member of the Committees on Foreign Affairs and Armed Services. She was deployed twice to the Middle East and was one of the first female combat veterans ever elected to Congress. She continues to serve as a Major in the Army National Guard. Tulsi Gabbard was Vice-Chair of the Democratic National Committee from 2013 until she resigned in 2016 to support Bernie Sanders for his bid for President. Tulsi Gabbard announced her intention to run for President of the United States on January 11th, 2019. She does not accept campaign contributions from corporations, lobbyists or political action committees.
EXPO Highlights
The second annual conference and exposition is expected to attract 5,000 attendees and is open to entrepreneurs, business leaders, investors, manufacturers, producers, agriculturalists and consumers interested in products made from hemp, CBD and full spectrum hemp extract.
This year's SHE event features a business conference; farm symposium; and industry day with a business-to-business expo hall on Friday, September 6. The general public is then invited to attend on Saturday, September 7, with nearly 150 exhibitors, workshops and demonstrations.
Expo attendees will receive up-to-date information about federal and state legislation and regulations, current trends in CBD and hemp supplements; the latest developments in processing, technology and innovation; certification, market research, compliance, and lab testing; breeding, genetics, seeds and clones, and more.
Presenting Sponsor: Blühen Botanicals
Tennessee's Blühen Botanicals is the Presenting Sponsor of Southern Hemp Expo. Founded by a dedicated team of Knoxville, TN-based entrepreneurs, soil scientists, farmers and hemp advocates, Blühen Botanicals is a hemp biomass processing and extraction company with farming and distribution partners across the United States. With a dedicated, pharmaceutical-grade hemp research facility, Blühen works with manufacturers to produce custom formulations for its own blend of boutique wellness products such as full-spectrum hemp extract oils, soft gels, creams, and pet treats and oils. The company employs expert entomologists, plant pathologists, agronomists, chemists, and engineers. Learn more at www.bluhenbotanicals.com.
About the Southern Hemp Expo
The Southern Hemp Expo is produced by the Colorado Hemp Company, a division of WAFBA LLC (We Are For Better Alternatives), based in Loveland, CO, and producer ofNoCo Hemp Expo, the world's largest and most comprehensive trade show and conference for industrial hemp. WAFBA is the founder of TreeFreeHemp paper and printing services and the Colorado Hemp Company. Areas of focus include product and brand development, event production, consulting, and advocacy. Learn more atSouthernHempExpo.com, and find us on Facebook and Twitter.
Contact
Steven Hoffman, Compass Natural, 303.807.1042, steve@compassnaturalmarketing.com
Morris Beegle, Colorado Hemp Company, 970.541.0448, info@southernhempexpo.com