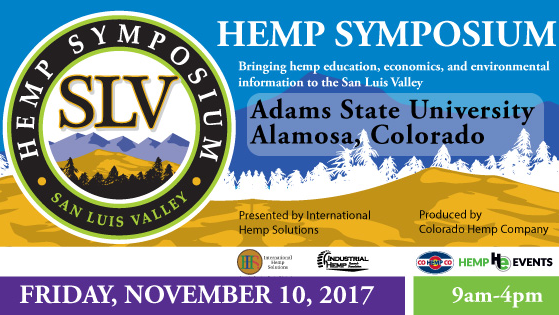 T
here is a valley in South Central Colorado, an ancient intercontinental seaway, where the uplifting of the Rocky Mountains has created a unique natural environment. Bordered to the west by the San Juan Mountains and to the east by the Sangre de Cristo Mountains, the San Luis Valley is the highland of an endorheic basin which supplies the headwaters and aquifers of the Rio Grande River.
Wild horses roam free over the low-lying "chico" greasewood bushes while a multitude of hawks soar above in the big sky. The high-altitude desert is home to a rugged lifestyle. This is where many self-sustaining people live.
This Saturday, November 5th, Adams State University, located in Alamosa, Colorado, will host the inaugural SLV Hemp Symposium on campus at the Student Union Building. This will be a conference to enlighten those interested in growing, processing, and producing industrial and nutritional hemp products. Colorado Hemp Company is bringing hemp education, economics, and environmental information to the San Luis Valley.
Panels of speakers will discuss the basics of the emerging hemp industry, the ABCs of industrial hemp farming, building a local and national brand, understanding cannabinoids from person to plant, hemp processing techniques, building construction tips, hot topics of hemp law, CDA regulations and the Colorado Certified Seed Program, and much more.
This mini-expo and discussion board will give attendees the opportunity to buy, sample, and learn about industrial hemp products like apparel, body-care, food, plastics, building materials, and extracts.
The San Luis Valley holds a lot of natural wonder. Industrial hemp is only now being introduced to it.
Come learn how to get involved.
Doors open at 10am.
Tickets are on sale now for the 2017 symposium. https://on.spingo.com/e/slv_hemp_symposium