Hemp Lifestyle
Filling in The Gaps: A Sustainable Solution in Hemp Fabrics
Hot? Cold? Worried about infection? Wrap yourself in hemp!
By: Brad Shannon
Did you know? One of the oldest relics of human history is a piece of hemp fabric dating back to around 8,000 B.C. Betsy Ross is said to have sewn the first U.S. flag from hemp fabric, and the canvas used to make the first pair of Levi's was even made from hemp fiber.
Today, what's old is new again, as hemp textiles are being used to make countless items, from apparel to shoes to housewares to furniture upholstery.
The case for using hemp to make fabrics is clear. In addition to the benefits it provides from its growth cycle – enriching the soil and absorbing carbon dioxide from the air, hemp produces 250% more fiber per acre than cotton, 600% more than flax, and uses much less water than cotton to grow. Where cotton farmers use more insecticides than most any other crop grown, hemp uses very little in the way of chemicals for its cultivation.
Hemp Traders notes that hemp textiles were long used mainly in industrial applications, particularly in the age of sailing ships for canvas, rope, and more, because untreated hemp fiber is course and rough. This was a challenge when it came to making apparel and other material for home use. Older methods of softening plant fibers used acids and worked well on cotton and flax, but weakened hemp fiber and made it unusable.
In the 80s, a new enzyme-based process was created, preserving the quality of hemp fibers while softening and smoothing them, producing a better quality of fiber to blend with other fibers or use alone in textiles for clothing.
Whether in a coarse or more finished form, hemp dyes well, taking up and retaining color, breathes in warm weather and has insulating properties in cool weather.
As shown in various studies including "Comparative Study of the Resistance to Aspergillus Niger by Hemp, Cotton, and Flax," by Bergh and Kitts, hemp has natural antibacterial/antimicrobial properties and is resistant to mold, making it a compelling material to use in products like Nuhni's (none-eye's) organic blankets and washcloths which can help to "prevent the spread of staph and pneumonia."
Hemp is extremely durable and becomes softer over time through use, and is naturally flame resistant without adding chemicals.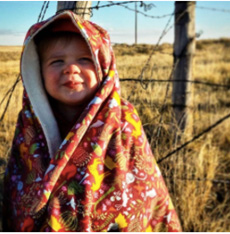 (media credit: nuhni.com)
It can be blended with other fibers to achieve a desired feel and structure, incorporating the softness and flex of cotton or the unique smooth texture of silk. Hemp is also used alone to produce a broad variety of fabrics used in myriad products sold around the world.
EnviroTextiles, LLC, a Cultivator-level sponsor of the 2015 NoCo Hemp Expo based in Glenwood Springs, CO, manfactures and imports more than 100 different hemp fabrics from around the world. Founder and hemp textile expert Barbara Filippone has been bringing sustainable hemp into the U.S. for more than 20 years. They offer hemp canvas, twill, muslin, plain weaves, silk blends, jersey knits, fleece, specialty weaves and faux fur, apparel and heavy-duty, upholstery-weight fabrics. These fabrics, from China, Romania, eastern Europe and Mexico, are used by Ralph Lauren, Versace, Volkswagen and others worldwide.
To support the growing interest in the production of hemp-based clothing and household goods, EnviroTextiles offers immediate shipping with no minimums – either from their Colorado headquarters, or direct from the manufacturer to customers who place large production orders. Choose from dozens of unique hemp fabrics, including 100% hemp textiles and blends featuring a variety of other fibers. They also offer for finished clothing items including t-shirts, hoodies and socks, along with hemp towels and tote bags.
This month's Outside magazine features a t-shirt from Jungmaven, a hemp-based clothing company whose founder Robert Jungman has been working with hemp textiles and natural dyes since 1993. Hemp's durability plays a role in the current trend of the outdoor apparel industry which focuses on the longevity, indestructibility, and sustainability of the products being make.
Hemp and its history as a valuable fiber and textile in the U.S. has until now been "swept under the rug" by trivial policy. Prohibition on the cultivation of hemp has caused what Vital Hemp Founder Ron Alcalay calls, "a gap in our plant inheritance." With recent changes in outdated hemp legislation, things are starting to look up for our one of the founding fibers.
Learn more about hemp fibers and textiles from companies like Envirotextiles, LLC, along with Vital Hemp, Jungmaven, and more at NoCo Hemp Expo 2016 at The Ranch Events Complex in Loveland, CO April 1-2.